Students of Creative Multimedia – Hyderabad take Mumbai by storm; pick up two coveted trophies in two days.
Creative Multimedia cemented its position as India's best and most sought-after multimedia mentor as the short film 'Oh No!' by its students won the VAM Award and the IAD Award on the 23rd and 24th of March respectively at Mumbai.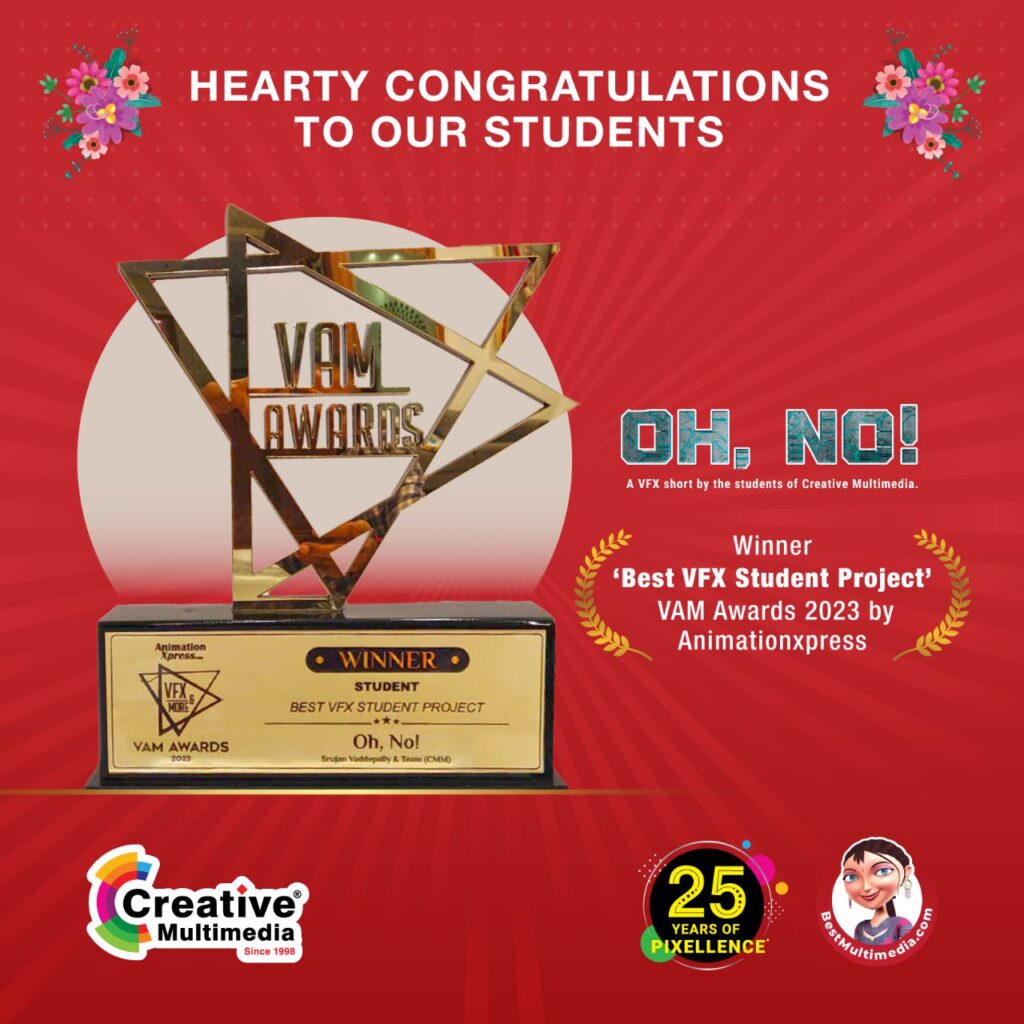 'Oh No!' is a 52-second live-action + visual effects short film crafted to feature film standards by 25 VFX students of Creative Multimedia.
Nominated along with a bunch of high quality films, 'Oh No!' impressed the jury members with its outstanding quality and won both the VAM and IAD awards.
The VAM (VFX & More) and the IAD (International Animation Day) Awards recognize and honour outstanding efforts in Animation and VFX for films/content across categories and platforms.
Thanking the jury panels and congratulating his students, Raja Sekhar Buggaveeti, CEO of Creative Multimedia, in his address to the media said: "Our efforts in grooming production-ready talent for the VFX industry continue to deliver great results and this inspires us to raise the bar. To complete this film, my students worked on all stages of the production pipeline from Modeling to Texturing, Animation, Lighting, Rigging, Matchmoving, Compositing, Keying-Roto-Paint, Matte Painting, Motion Graphics, and Editing. This award is a testament to our experiential training that helps students evolve into studio-ready VFX artists and technicians."
Established in 1998, Creative Multimedia is one of the earliest and most well-entrenched players in the digital media education sector in India. The group comprising Creative Multimedia Academy and Creative Multimedia College of Fine Arts (CMCFA) imparts a range of certificate, diploma, degree, and PG programs in Animation, VFX, Gaming, and Graphic (Web, Mobile, UI/UX) Design.
With the focus on Enhancing EmployabilityTM, Creative Multimedia has revolutionized digital media education in India and has won several coveted honours including the 'Best Digital Media Academy in India' Award multiple times. The benchmark for digital media education in India, Creative Multimedia combines top-notch infrastructure with innovative training, and unrivalled placement initiatives to deliver a transformational experience for students. The group has produced over 27,000 succesfull creative arts professionals who are now working in top companies around the world.