Creative Multimedia Group Founder and MD RajaSekhar Buggaveeti was honoured with the "Innovation Leadership Award" at the 15th edition of the WORLD INNOVATION CONGRESS & AWARDS 2023 (WICA) held on Friday, the 17th of February 2023 at Taj Lands End, Mumbai.
The award, including a shining trophy and a citation, was presented to RajaSekhar amidst thunderous applause from the august gathering.
Sharing his knowledge as an edupreneur with over 25 years of experience, RajaSekhar, a key speaker at the conference, dwelt extensively on 'Design Thinking for Innovation' and cited several examples including the highly successful innovation – Learning Experience Design (LXD®) conceived and executed with exceptional outcomes by his group – Creative Multimedia.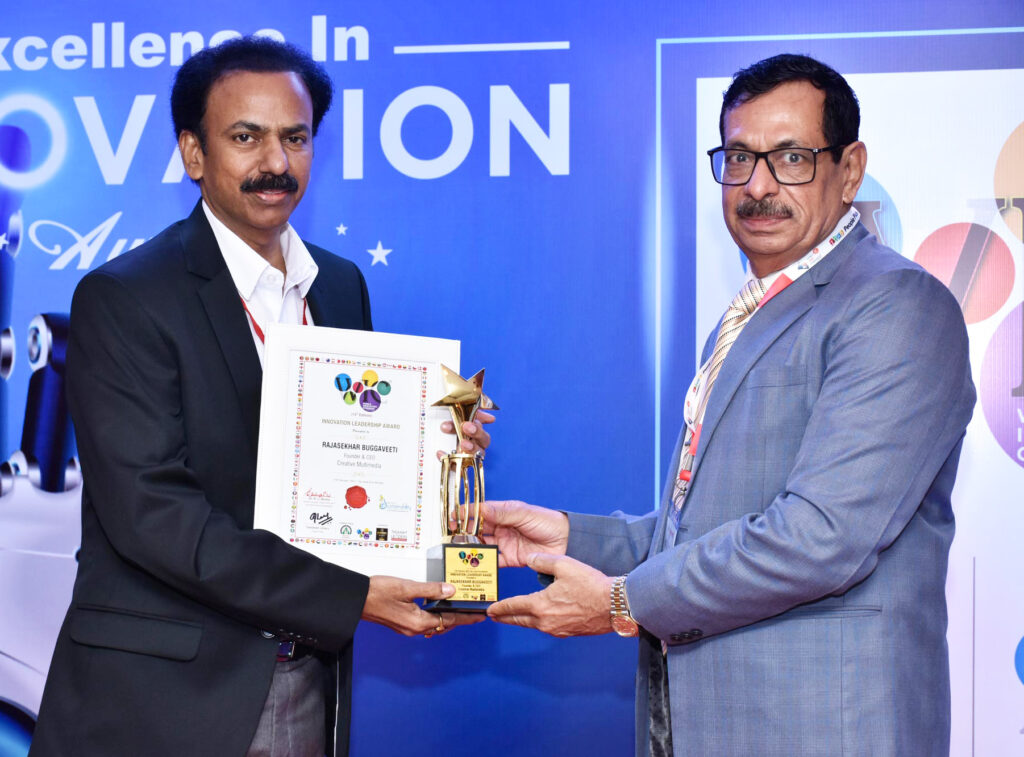 Speaking to the press, post his address, RajaSekhar thanked WICA for the recognition and said:
"Innovation has been the cornerstone of sustainable growth for Creative Multimedia Group since inception and it has played a key role in building a competitive edge. At Creative Multimedia, we've always been focused on innovating the training game to produce world-class multimedia talent and drive organizational growth, not just for us but for the scores of recruiters who would benefit from our inspired, innovation-focused talent."
RajaSekhar was part of a panel of eminent speakers including CEOs, CTOs, Directors, and Founders who are driving innovation at different organizations across India; these professionals from diverse fields were invited to speak at the World Innovation Congress & Awards 2023.
While the objective of WICA is to benchmark innovation practices and ensure that innovation is at the heart of organizational values, the awards aim to recognize the best of the best who've contributed significantly and made a positive impact on the world at large through innovation.
An independent jury comprising leaders, researchers, and academicians from across the globe reviewed the shortlisted candidates and finalized the award winners. RajaSekhar was amongst the select winners and WICA acknowledged his contribution to Creative Multimedia Group.
Creative Multimedia Group is an award-winning digital media education powerhouse focused on producing job-ready Animation, VFX, Gaming, and UI/UX Design talent. The revolutionary group famed for its transformational training and record placements comprises two of India's top digital media institutions: Creative Multimedia Academy and Creative Multimedia College of Fine Arts.
Established in 1998, Creative Multimedia has shaped 27,000+ careers to date and attracts students from all parts of India. The group offers a range of in-demand degree, PG, & certificate programs.
Creative Multimedia has won several coveted awards including The "Best Digital Media Academy in India Award" (thrice) and the "Award for Educational Excellence" (thrice). These are in addition to many more distinguished accolades that bear testimony to the group's benchmark training.