What is UX design eligibility?
UX Design programs are offered at various levels. Eligibility depends on the level of the course you wish to pursue. For all diploma, certificate, and undergraduate programs, you must have successfully completed your 12th class. As for PG programs, graduates are eligible to apply.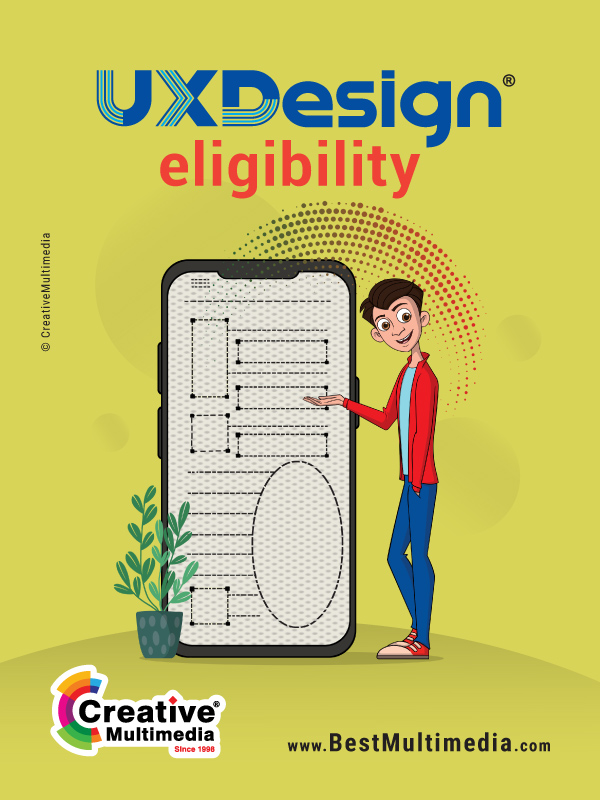 Eligibility for UX Design programs also depends on communication, interpersonal, teamwork, empathy, critical thinking, and problem-solving skills. Candidates possessing these soft skills are a natural fit, while others may also enroll and acquire these skills in the course of the program. Some of the best UX Design courses in India are imparted by top multimedia institutes in Hyderabad.
12th pass candidates are eligible to apply for these UX Design degree courses:
> BA (Bachelor of Arts) in: > BA (Honors) UI & UX Design > Product/UX Interaction Design
> Experience Architecture > Interactive Arts & Technology > Interactive & Visual Design
> Bachelor of Fine Arts (BFA) in UX Design > Bachelor of Design (B.Des) in: > Motion Design
> Bachelor of: > Information & Communication Design > Interactive Digital Media
> Applied Sciences (Communications & Media Design – UX Design) > IT (UX Design)
> Digital Media (Web Design & Development) > Applied Sciences (Industrial Design Engineering)
> Computing – Human Interface Technology (HIT) > Cognitive Science [HCI]
Bachelor of Science (BS) in: > Digital/Industrial/Interaction Design
> Human-Centered Design & Engineering > Human-Computer Interaction (HCI)
UX Design certificate courses: > UX/UI Mobile Design > Human Factors > Customer-Centered UX Design. UX Design diploma course: > UX Design & Technology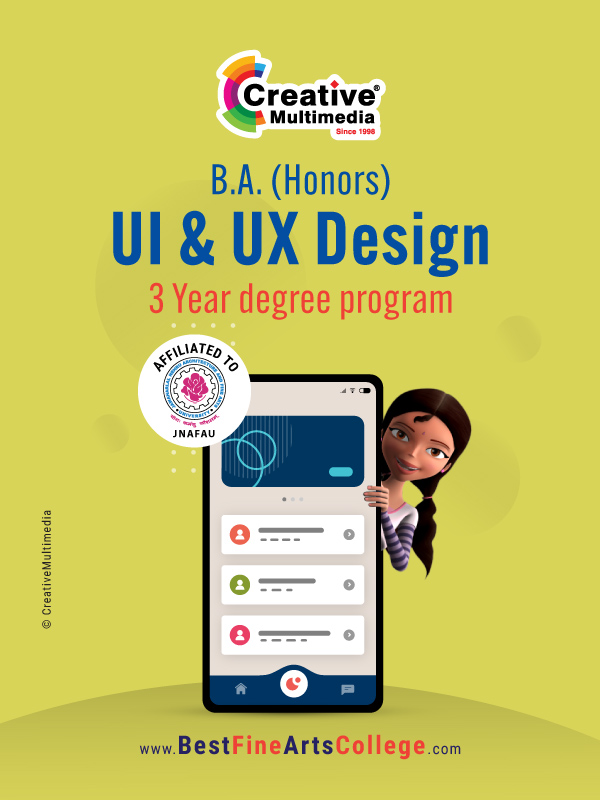 Graduates are eligible to apply for these UX Design PG courses:
> Masters in: > Interaction Design & Technologies > HCI > UX Design > Multimedia Design
> Information Studies (Information Architecture) > Computer Graphics Technology (UX Design)
> Master of Fine Arts (MFA) in: > Web Design + New/Interactive Media
> Master of Science (MS) in: > Human Factors in Information Design > Human Factors Engineering
> Human-Centred Interactive Technologies > UX & Interaction Design > Industrial Design + HTI
> Master of Arts (MA) in: UX Design > Web & Multimedia Design > Interactive Arts & Technology
> Information Experience Design > Information Studies + Digital Design
> PhD, MA in: Human Factors & Applied Cognition Psychology > Human-Centered Computing
> Digital Experience Design