What are UX courses?
UX stands for User Experience. UX courses are the professional career programs related to UX Design, a skill that is in high demand in the job market. UX courses imparted by top multimedia institutes in India are highly industry-oriented and upon succesfull completion, lead to rewarding job opportunities in top companies across industries such as e-commerce/retail, art, FMCG, media and entertainment, education, hospitality, healthcare, infrastructure, logistics, and all manufacturing and services sectors.
UX Design involves the elements that facilitate an interactive experience with a product or service. For instance, how ergonomic a chair is or how easy it is to browse a website depends on the UX Design. UX Design combines research, strategy, and design to create a hassle-free, easy-to-use, and enjoyable user experience.
Look around for well-established and award-winning multimedia institutes in India and enroll for the best UX design course if you are chasing a bright future in this dynamic field.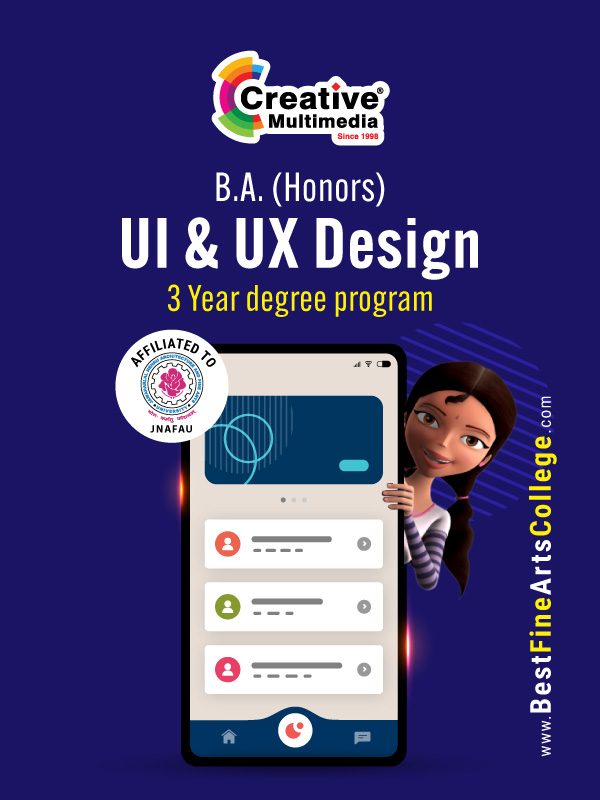 Here below is a list of UX courses:
UX Design Degree courses: Bachelor of Arts (BA) in:
01. Product Design
02. Interaction Design
03. Experience Architecture
04. Interactive Arts & Technology
05. BFA – UX Design
06. BFA – Interactive and Visual Design)
07. Bachelor of Design (B.Des) (Motion Design)
08. B. Des (UX Interaction Design)
Bachelor of:
09. Information & Communication Design
10. Cognitive Science (HCI)
11. Interactive Digital Media
12. Digital Media (Web Design & Development)
13. Applied Sciences (Industrial Design Engineering)
14. Computing – Human Interface Technology (HIT)
15. Applied Sciences (Communications & Media Design – UX Design)
Bachelor of Science (BS) in:
16. IST
17. Digital Design
18. Industrial Design
19. Human-Centered Design & Engineering
20. Human-Computer Interaction (HCI)
UX Design PG courses: Masters in:
21. Interaction Design & Technologies
22. Human-Computer Interaction
23. UX Design
24. Information Studies (Information Architecture)
25. Multimedia Design
26. Computer Graphics Technology (UX Design)
27. Master of Fine Arts (MFA) – Interactive Media
28. MFA (Interaction Design)
29. MFA (Web Design + New Media)
Master of Science (MS) in:
30. Human Factors/Ergonomics
31. Informatics & Design
32. Human Factors Engineering
33. Human Factors in Information Design
34. Human-Centred Interactive Technologies
35. UX & Interaction Design
36. Industrial Design + Human-Technology Interaction
Master of Arts (MA) in:
39. Web & Multimedia Design
40. Interactive Arts & Technology
41. Information Experience Design
UX Design Certificate courses in:
42. UX/UI Mobile Design
43. Human Factors
44. Customer-Centered UX Design
UX Design Diploma courses in:
45. UX Design & Technology