How career opportunities are shaping up in the world of VFX.
HR Manager of NY VFXWALA engages Visual Effects students at Creative Multimedia's 25th Anniversary gala.
Creative Multimedia Group, the best VFX institute in Hyderabad invited Ms. Goshamahal Radhika, the Human Resource Manager of NY VFXWALA as a special guest to its Silver Jubilee Celebrations held amidst leading lights of the industry and government at Ravindra Bharati, Hyderabad, on Thursday, the 20th of July 2023.
Ms. Radhika took to the stage and spoke at length on NY VFXWALA. For the benefit of the audience, most of them students who are pursuing the best VFX course in India, she outlined the extensive work that the studio was doing in the visual effects space and discussed the career prospects in the fast-growing VFX sector.
She screened a showreel comprising the best VFX works of her studio including films such as Bahubali-2, Padmaavat, Shivaay, Bajirao Mastani, Taanaji, Simmba, Malang, Bhuj, and Jagga Jasoos. The showreel ended with a bang as students got to their feet and started clapping fervently in appreciation.
Soaking in the applause, Ms. Radhika went on to say that NY VFXWALA is purely into visual effects, she invited aspiring VFX artists to reach out to her for any career-related support. She offered to help students of Creative Multimedia with VFX internship opportunities if required. She said that NY VFXWALA is constantly scouting for fresh talent.
It was a great opportunity for students to interact with an industry professional and understand various career-related aspects including VFX placements, work environment, and growth prospects.
Mr. Raja Sekhar Buggaveeti, Founder and CEO of Creative Multimedia presented a token of appreciation to Ms. Radhika for accepting his invitation and sparing time to be with students.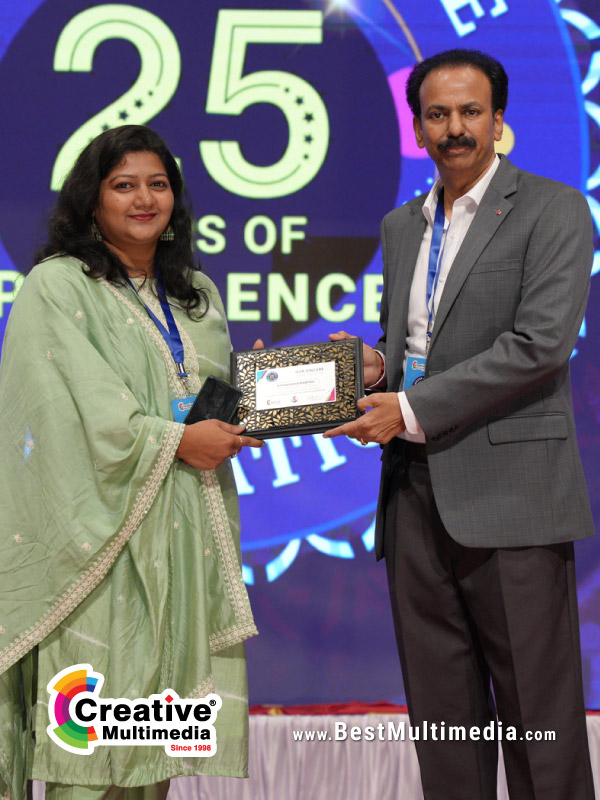 NY VFXWAALA was established in the year 2015 by superstar Ajay Devgn. In a short span of 7 years, the studio has won over 20 prestigious VFX awards and achieved the distinction of being the only Visual Effects studio in India to be honoured with the coveted AFA award in its early years. The studio is equipped to execute complex Visual Effects and Animation work at par with global standards.