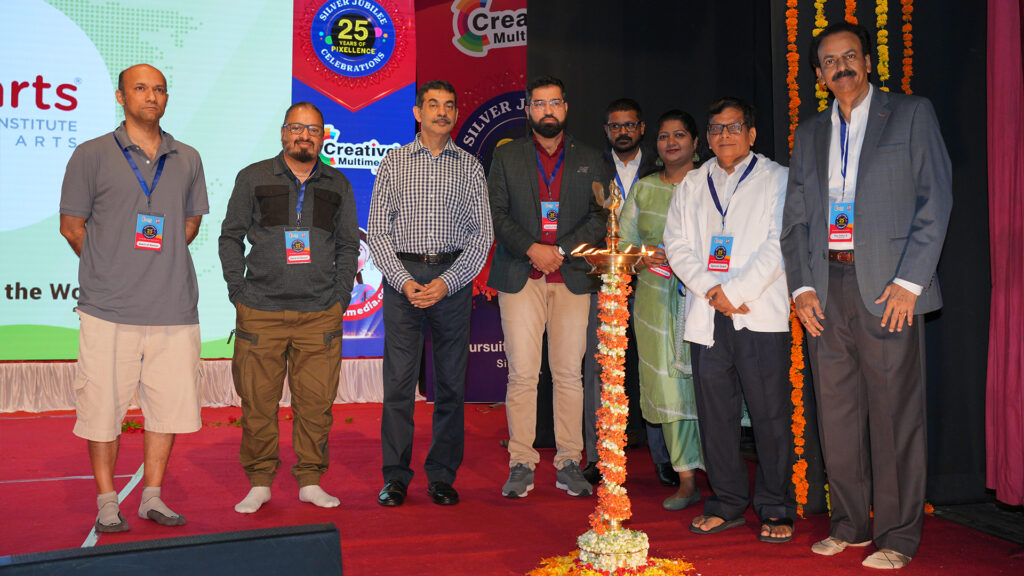 Creative Multimedia, one of the longest-serving multimedia institutes in India and the first multimedia institute in the Telugu states of Andhra Pradesh and Telangana to reach the momentous milestone of 25 years, celebrated its Silver Jubilee amidst leading lights of the industry and government at Ravindra Bharathi, Hyderabad on Thursday, the 20th of August 2023.
Mr. Jayesh Ranjan, was the Chief Guest of the day. He arrived to thunderous applause and lit the lamp along with other guests to launch the celebrations on a traditional note.
In his inspirational address to the gathering, he congratulated Creative Multimedia on crossing the 25-year milestone and remarked: "It's a big achievement that the institute has produced over 28,000 students. I am sure many of them are working in top companies and some may be entrepreneurs."
Referring to Creative Multimedia's vision of transforming into a multimedia university, he said that it is a matter of great honour as there is no such institution anywhere and that he is ready to support and help realize this dream.
Highlighting Telangana's role in the growth of the AVGC (Animation, VFX, Gaming, Comics) industry in India, he said that the T-Hub facility coming up in Hyderabad amidst rapid infrastructure proliferation has become a talking point and MNCs are unable to believe the kind of growth that's happening here.
Stating that the AVGC industry in India is growing at a rapid clip with a big spike in the amount of work being done, he quipped: "The future of the industry is bright. There are plenty of job opportunities and there is no challenge in finding work. Please work hard so that recruiters will recognize you."
"My greetings on your 25-year milestone. May Creative Multimedia continue to reach new heights and bring more glory to the country", he concluded. Mr. Raja Sekhar Buggaveeti, the Founder and CEO of Creative Multimedia presented a small token of appreciation to Mr. Jayesh Ranjan. Creative Multimedia is considered the best multimedia college in Hyderabad and has been affording the best courses, training, and placements for students seeking careers in Animation, VFX, Gaming, and UI/UX Design.